In this article, we will discuss how to make check stubs. The process of creating pay check stubs can be tough if you don't know what you're doing. Making check stubs for yourself or your employees is important for bookkeeping, taxes and legal purposes.
With a small amount of work, you can have your pay check stubs ready. You just need to design your pay stubs to display all required information in a neat and organized manner.
Before we discuss how to make pay stubs, first it is important to understand, what are check stubs?
Check stubs, also known as pay stubs are detailed records of your income from a particular company. They show how much money you made for a given pay period and are accurate and professional.
How to Make Pay Check Stubs?
There are several ways to make pay check stubs. Depending on your preferences, some are easier than others.
One of the easiest ways to Pay Stubs is using a Pay Stub Generator. And you can make your pay stubs anytime. You will be asked to enter your salary details and employer information. Once you are done, you can preview, download and print your real paystubs right away.
As long as the pay stubs are accurate, and you have permission from your employer if you are not self-employed, then you can use your pay stubs as proof of income.
Regardless if you need to make pay stubs because your self employed or you are an employee of a company that does not provide pay services, the online pay stubs generator is a quick and easy way to generate pay stubs.
A pay check stub generator can make your pay check stubs in 30 seconds or less. Instead of making pay stubs from scratch which can take several hours, you can use a pay check stub generator.
Another way to make pay stubs is using a Pay Stub Template. Let's look at a sample check stub template. For demonstration purposes, we will use semi-monthly pay period.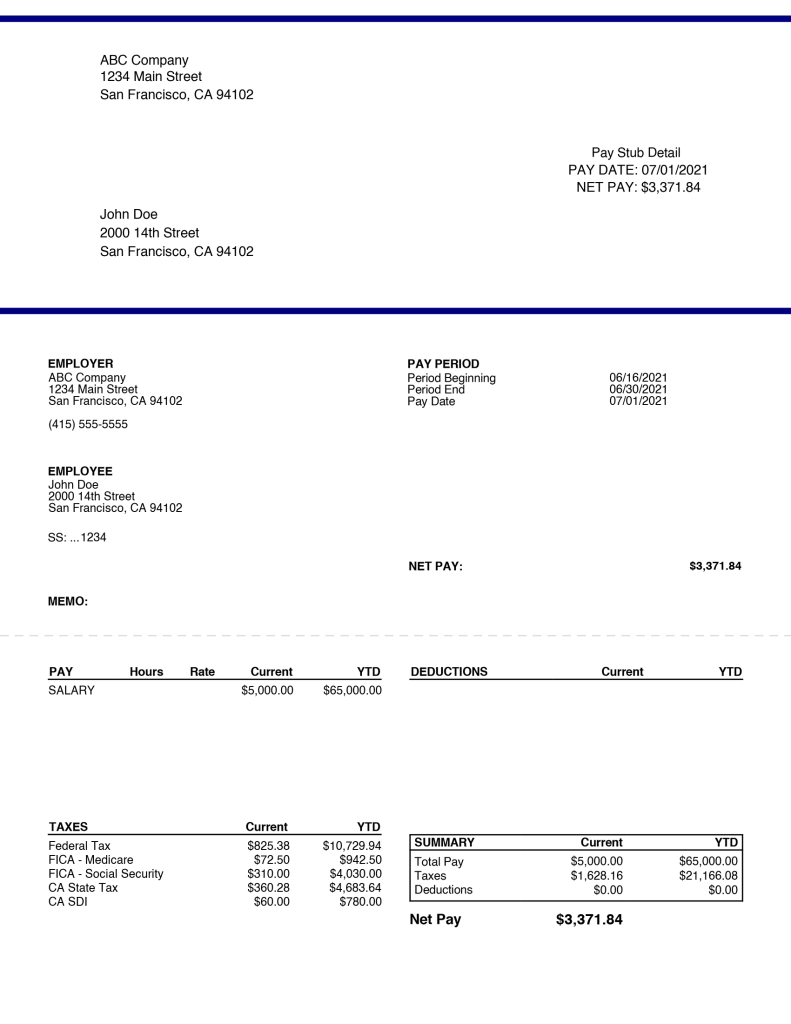 As you can see from the sample pay stub template, there are several pieces of information on a pay stub. The accuracy of the information will make the difference between a real and fake pay stub.
Income: Your gross pay, deductions and net pay.
Company Information: The name of the company and address.
Pay Period: The period you received income from a company. Typically, semi-monthly or bi-weekly.
Employee Information: Your name, social security number and hourly rate or salary.
Taxes and Deductions: The amount of taxes and deductions withheld from your pay. Common taxes included on every pay stub is federal tax, social security, medicare, and state tax if applicable.
We use these same pay stub templates in our Pay Stub Generator, and thousands of people have used our pay stub templates to get approved for a home, car, or loan.
How to Make Check Stubs for Free
Another way to make pay check stubs is from scratch. When you are making pay check stubs from scratch, you need to be familiar with all the calculations done on the pay stubs. And you should be familiar with a document processor such as Microsoft Word or Excel.
Calculations on a Pay Stub
There are several pay stub calculations made on any given pay stub. Some of the calculations include:
Total Pay from Hourly Rate and Hours
Federal Withholding Tax Calculations
Social Security Tax Calculations
Medicare Tax Calculations
State Withholding Tax Calculations
Other Local Withholding Tax Calculations
Accumulation of all the Year to Date Totals for each Amount
Timeframe to Making Pay Check Stubs from Scratch
Timeframe: 4-5 hours. However, it may take more than 5+ hours if you are making pay stubs from scratch. It depends on your level of computer savviness and tax withholding knowledge. However, if you want to make pay check stubs quickly, use the Pay Stub Generator instead. It can generate your pay stubs in 30 seconds or less.
Steps to Making a Pay Check Stub from Scratch
Open document processor: If you are using Microsoft Word or Excel to make pay stubs, then open the software. The document will automatically appear in the default settings. (This is typically where to save and print your pay stubs.)
Determine Dates: You need to determine the dates that will go on the pay stub. These dates include:

Pay Date
Period Begin
Period End

Enter Payment information: Enter all the Payment information for the given pay period.

Hourly Rate and Hours worked for the given pay period.

Or Salary Amount during the pay period.

Enter Employee information:
Enter Company Information:
Calculate Deductions: Real pay stubs include several different deductions depending on your situation. And each deduction uses different calculations as well. You will need to refer to your respective state and locality for calculating some of these calculations. Some deductions include:

Other Local Withholding Taxes

Other Voluntary Deductions

Calculate Totals: Once you have the salary and deductions calculated, you would then need to calculate the net pay by subtracting the total deductions from the salary amount. The net pay is the actual amount paid to an employee after company withholdings.
Calculate Year to Date Totals: Pay Check Stubs are an accumulation of earnings and deductions from a company. Therefore, each additional pay check stub should include an accumulated total from each of the previous pay stubs. That means you have to start by making the first pay stub from the company and accumulate the earnings and deductions for each pay stub after that.
Pay Stub Design: After entering all the pertinent data, it's time to format your pay stubs. For example, if you want a different font style or size, then choose the option provided in your software program. (You may need to make a template that fits your needs.)
As you can see, making pay stubs from scratch can be cumbersome and time consuming. That is why we recommend using a pay stub generator.
Why are Check Stubs important?
Pay check stubs are importing when you need to show proof of income. Whether you are applying for an apartment, house, loan or car, people use pay stubs to verify their income. That's why it is important to not only have pay check stubs that are accurate but professional too.
Summary
There are several ways to make pay check stubs. From a pay stub generator that makes your pay stubs in 30 seconds or less to making pay stubs from scratch. It depends on the preferences of you and your employees. However, the easier to make pay check stubs, the better.
All you need is some personal information, such as employee name, salary, and deductions, and you can generate correct pay stubs. Although, you can also make pay check stubs from scratch, it will take longer if you have little to no knowledge of tax calculations.
If you have no experience with creating check stubs and using software, it is recommended that you start with the pay stub generator.