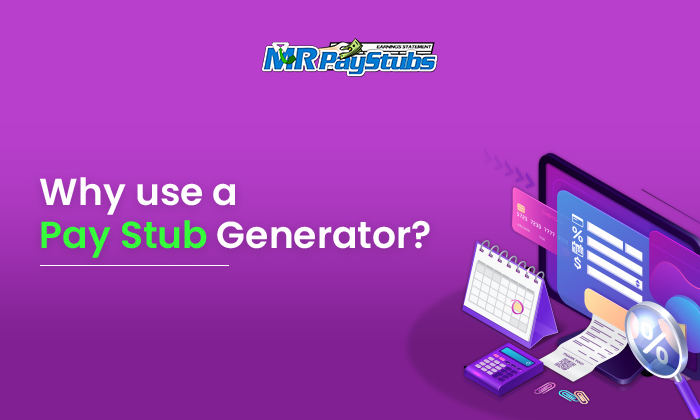 Nowadays, generating pay stubs manually has become quite difficult and cumbersome primarily because the information that goes on an average pay stub is more complex than it was a few years ago.
It is vital for employees to get clear communication on how much they will receive either by cheque or direct deposit.
The Paystub Generator solves this problem because it provides a great way for employers to generate real pay stubs in order to manage their payroll and finances easily. These pay stubs can also be used as proof of income.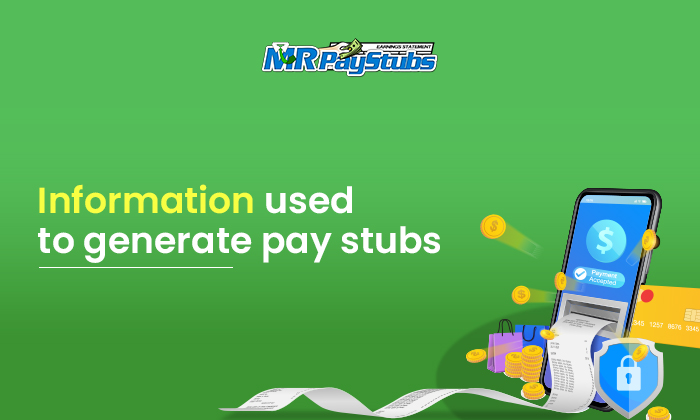 Information used to generate pay stubs
Since you expect your staff to put in their best primarily for the sake of your business, they also have other expectations besides the salary they receive. They expect to get precise pay stubs that are easy to understand.
Employees are not only concerned with how much they are earning, but how much taxes and other deductions are being taken out of their paychecks in each pay period. In fact, employees prefer having their pay stubs online for easy access in case they need to review the contents.
Here are some of the information bits that are usually included in pay stubs:
Total number of working days and rate per hour
Sick leaves
Cash awards, increment and bonus
Tax deductions
Deductions such as health savings deductions, union dues, and health insurance payments
Gross pay and net pay
Employer ID number and code
Employer address
Employee's basic information such as Name, address and social security number
Providing such information is of great importance to the employer and employee from a transparency point of view because it ensures accuracy and proper reflection of all the relevant information.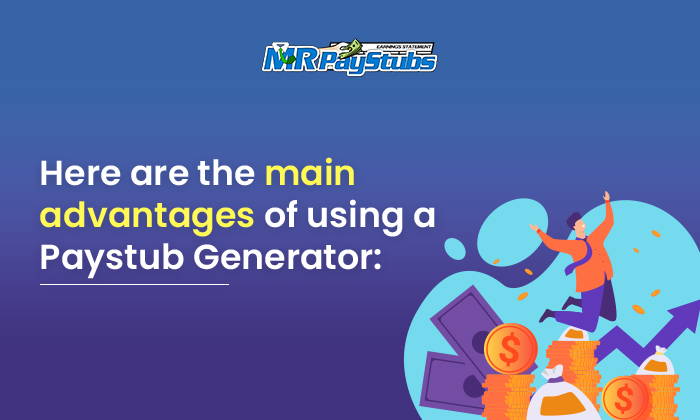 Here are the main advantages of using a Paystub Generator:
Pay Stub Generators Save time and resources
Integrating a paystub generator into your system saves your payroll department a lot of time and effort when payday comes around.
This is very important especially if you have many employees because it can take several days or weeks for the payroll department to calculate the hours, taxes and deductions for each employee manually in order to fill out the pay stubs.
Therefore, you can create pay stubs for many employees and add or delete employees from the list very easily
However, if the payroll department has access to a paystub generator, they only have to enter the correct number of working hours for each employee and the software will do the rest.
On the other hand, the software integrates seamlessly with the accounting software you are using in order to enhance accuracy.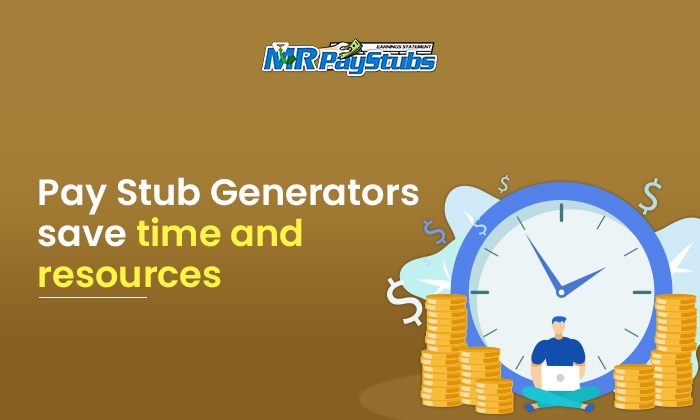 Both the pay stub and pay check can be generated easily and then the money should be deducted from the employers account.
This enables the employer to plan other vital aspects of the organization such as awareness, advertising and marketing strategies.
The pay stubs can also be easily customized to fit specific needs. The paystub generator software allows you to choose from a wide range of templates, designs and background colors.
This can be very cost effective especially if you still use traditional printing services.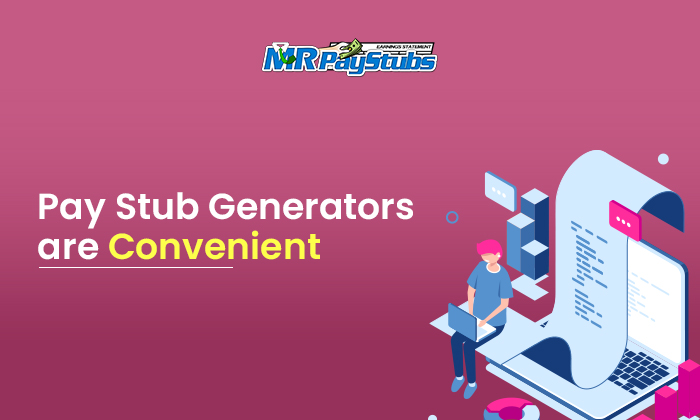 Pay Stub Generators are Convenient
Employees no longer have to wait for several days or weeks to get their pay stubs; they can access it easily, resolve issues much faster and use it in various ways.
Employees can use their internet-enabled mobile devices or computers to go online and access their pay stubs anywhere and anytime.
The paystubs can be emailed or printed almost instantly. Therefore, by using the paystub generator, employees no longer have to sort through piles of letters or documents just to get their past pay stubs.
Moreover, employers and employees can avoid any issues that occur when mailing out the check stubs. The employer also saves money on postage and any lost mail that must be re-sent.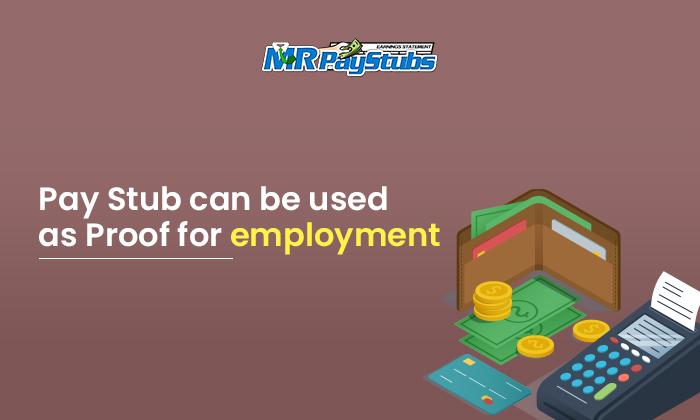 Pay Stub can be used as Proof for employment
Presenting identification when buying a home, opening a bank account or securing a loan is fairly standard for everyone.
Some procedures require more than just the identification; you must also present other documents such as utility bills, voter ID card or pay stubs to verify employment.
The pay stub or check stub is a simple proof-of-income document used all over the world. Employees use pay stubs to verify income. Therefore, instant access to their pay stubs is very important.
Providing the access employees need is the main reason why most employers are using the paystub generator.
Employees can use their mobile devices or computers to go online and access their pay stubs.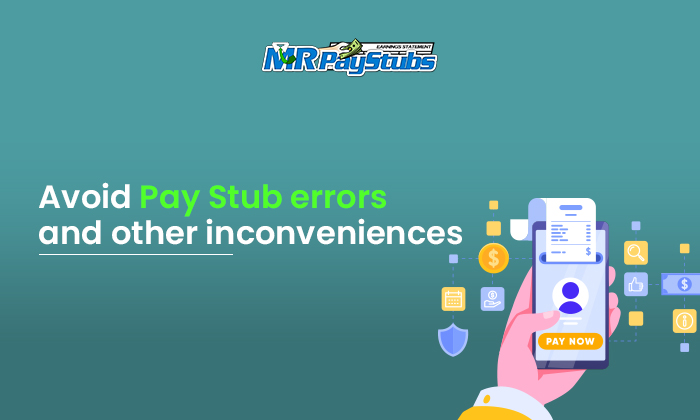 Avoid Pay Stub errors and other inconveniences
With the help of a paystub generator, there is little chance of making any mistakes when calculating salaries for your employees. Moreover, the employers increase efficiency because they can access instant and accurate information.
There is no chance of heavy penalties or fine when taxes and types of deductions are done accurately.
The paystub generator provides information immediately. It creates a better atmosphere even when there are issues that need to be resolved.
These issues can be resolved in a timely manner without going back several days or weeks to go over the records.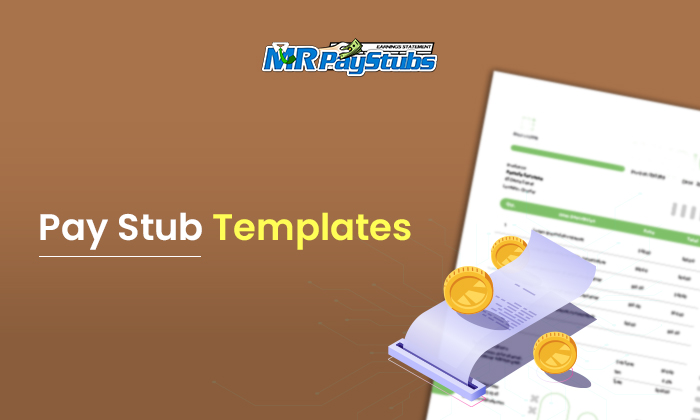 When you are running a business, you need a payroll template that you can count on. Therefore, your template should work with your accounting software seamlessly.
In most cases, the paystub generator is connected to spreadsheet or database programs.
Therefore, the employer must ensure that the fields of the pay template match those of the software. This ensures that the two packages are connected properly in order to generate the most suitable pay slip for the business.
This makes it easier to transfer the relevant information directly from the accounting software to the employee's pay stubs.
When looking for a paystub generator, it is vital to use one that is fully compatible with your accounting software. This is in order to provide the most concise and the clearest pay stubs for your employees.
Besides reducing work pressure on the payroll department, using paystub generator accelerates the efficiency of the entire payroll process.