The Alabama Pay Stub Generator is a great tool to help employers in the state of Alabama make their own payroll stubs quickly and easily.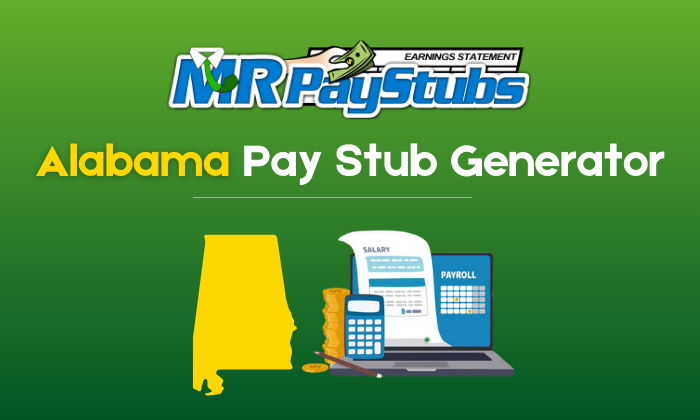 This online software allows businesses to enter employee information, such as hours worked and wages paid, which it then uses to generate accurate pay stubs that include taxes deducted from income.
It also provides helpful data visualizations for tracking labor costs over time or analyzing wage changes across departments.
The ease of use makes this generator an ideal choice for any employer looking to simplify their payroll process while staying compliant with local tax laws.
What is an Alabama Pay Stub Generator?
An Alabama Pay Stub Generator is an online tool that allows employers to rapidly and easily create customized pay stubs for their employees.
The generator can be used to quickly generate accurate, state-compliant payroll documents that include all relevant tax deductions as well as employee earnings information.
This eliminates the hassle of manually calculating these figures and ensures accuracy in the final document.
Ultimately, the result is a streamlined and secure payroll process that benefits both employers and employees.
In addition to Alabama-specific templates, this pay stub generator can also be used by businesses in other states as well.
How Does a Pay Stub Generator Work in Alabama?
A pay stub generator in Alabama works by providing employers with the necessary information to generate a legally compliant and accurate payroll document for their employees.
The employer typically enters details such as social security numbers, wage rate, salary, or hourly wages earned during the pay period, and taxes withheld from those earnings.
Any voluntary deductions made from gross wages, such as health benefits contributions.
The net-pay check amount due after all withholdings have been deducted.
Direct deposit bank account information, etc., will be entered into an online system that will then calculate each employee's net take home amount based on all of these variables combined.
The user can then print off a completed pay stub for each individual employee directly through this platform; many payment systems also allow electronic records instead of physical paper copies if desired.
This streamlined process of generating pay stubs offers employee convenience and speeds up payroll processing time for employers.
Most states require employers to provide pay stubs for their employees, and Alabama is no exception.
Creating legally compliant stubs with the correct information ensures that all parties involved are protected.
Benefits of Using an Alabama Pay Stub Generator
If you're an employer in the state of Alabama, it is important to stay compliant with all required labor laws.
That means providing each of your employees with valid pay stubs that include accurate information about their wages and deductions.
Fortunately, there are a variety of online tools available to help employers generate legally-compliant paystubs for their workers quickly and easily, one such tool being an Alabama Pay Stub Generator.
A quality PAYSTUB generator will reduce or eliminate several administrative tasks associated with payroll processing while offering a number of additional advantages:
Generating AL-approved pay stubs can be done almost instantly when using the right software program; simply input employee data into preformatted slots on a template and hit 'print'.
Using these generators helps ensure greater accuracy by reducing manual error caused by entering data multiple times across different systems (i.e., payroll spreadsheets).
Having software applications generate pay stubs instantly saves employers time, reduces paperwork clutter in the office, and makes payroll processing more efficient overall.
Ultimately, taking advantage of an Alabama Pay Stub Generator will not only improve accuracy and compliance but also save time while reducing workloads for both employers and employees alike.
Frequently Asked Questions On Alabama Pay Stub Generator
What information do I need to generate an Alabama pay stub?
You will need the employee's name and Social Security number, employer's company name and address, total hours worked for each pay period, hourly rate of pay, or salary amount paid during the current payroll period.
How often should I generate a new Alabama Pay Stub?
It is recommended that employers produce a new paycheck stub after every payday to keep accurate records of their employees' wages earned and other financial details associated with employment in the state of Alabama.
Are there specific laws governing payslips in Alabama?
Yes. The Fair Labor Standards Act (FLSA) regulates minimum wage standards across all states, including those related to producing itemized statements detailing how much money an employee has been paid each working week.
Is my personal data safe when using an online Quick Paystub generator tool from the Alabama Pay Check Generator?
Absolutely yes! Our site uses SSL encryption technology, which provides secure server communication, ensuring sensitive data like your personal information is kept safe and secure.
Can I generate a pay stub for multiple employees?
Yes, with the Alabama Pay Stub Generator, you can easily create payslips for up to 10 different employees at once using our bulk payroll processing feature.
Summary
Alabama Pay Stub Generator is a great tool for employers and employees alike. It simplifies the process of creating pay stubs, saving both time and money.
In addition, it ensures that all information included on the pay stub is accurate and up-to-date with state laws, so there are no errors or misunderstandings when it comes to payroll issues.
This generator makes managing wages easier for everyone involved in an employee's job situation without having to use additional software programs or complicated processes.
Overall, the Alabama Pay Stub Generator is a valuable tool for any employer or employee looking to streamline their payroll process.
The convenience and accuracy that it offers make it an ideal choice for those who want to save time and money while ensuring complete compliance with state laws at all times.