This tool is designed to make it easy for individuals and businesses in Connecticut to generate accurate, on-demand pay stubs quickly.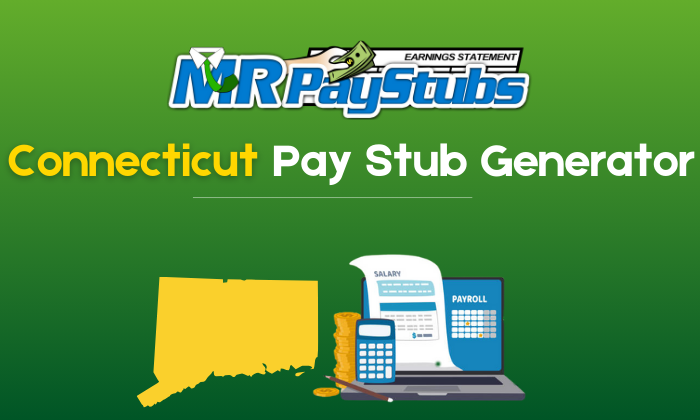 With our reliable software solution, you can create customized paystubs that include all necessary payroll information at a fraction of the cost of traditional paper checks or manual computations.
We have taken care, so no special knowledge is needed; just enter your desired data with ease using our intuitive interface and enjoy up-to-date downloadable PDF forms ready for immediate use.
What's more? We offer secure online storage as well as detailed real-time analytics tracking, giving you complete control over how your employees are paid without any hassles whatsoever.
What is a Connecticut Pay Stub Generator?
A Connecticut Pay Stub Generator is a helpful tool designed to simplify and streamline the process of creating professional pay stubs for employees.
It can generate accurate state-specific information that complies with all applicable laws related to wages, deductions, taxes, and other payroll components.
This generator provides an easy way to create these essential documents quickly and efficiently.
Here are some features offered by this type of generator:
Generates standardized paycheck stubs according to CT tax regulations.
Allows customization of wage data like calculated earnings year-to-date, etc.
Automatically calculates federal, state, and local income taxes plus any additional withholdings or stipulated benefits.
Easily printable or pdf format output is available.
Generates employee-specific stubs as needed with full accuracy.
Online support is available to assist in the process of creation and use.
Full compliance with Connecticut pay stub regulations.
Accurate, up-to-date calculations of various payroll components.
Benefits of Using a Connecticut Pay Stub Generator
A Connecticut Pay Stub Generator is a great tool for business owners that take on payroll duties.
With its easy-to-use design, this generator streamlines the process of calculating employee paychecks and provides businesses with important information about wages paid out in a timely manner.
Here are some benefits to using such software:
Saves Time: Automates the tedious processes associated with manual calculations of employees' gross and net earnings, making the entire payroll much more efficient.
Accuracy: Error calculation while manually filing can be costly; automation increases accuracy by reducing human error from entering incorrect data or incorrectly applying tax rates.
Easy Accessibility: Generate secure pay stubs at any given time as well as store your past ones electronically for future reference without having to keep physical paper records.
Compliance: Ensure compliance with changes to state laws regarding taxes, deductions, etc., so businesses do not have to worry about penalties for noncompliance.
Transparency: Employees can have better access to their own information as they can review the pay stubs online and are immediately aware of any deductions or additional changes made by employers.
How Does a Connecticut Pay Stub Generator Work?
A Connecticut Pay Stub Generator works by taking the necessary information from an employee's payroll, such as wages, deductions, taxes, and other elements.
Once this information is inputted into the system, it calculates all of these factors to generate a detailed pay stub that reflects the specifics of each individual paycheck.
The results can be printed immediately or stored in digital form for later reference if needed.
Additionally, some systems offer additional customization options so employers can ensure completely accurate and up-to-date documentation on their employees' payment histories throughout their time with them.
Frequently Asked Questions on Connecticut Pay Stub Generator
How do I generate a Connecticut pay stub?
Use our online generator to quickly and easily create a custom Connecticut pay stub.
What information is needed to generate my CT payroll check?
Input your company's contact details, employee information, wage rate, deductions, and taxes.
Do you offer help with understanding different areas of the generated paycheck?
Yes, check out our detailed guide on creating an accurate and compliant paycheck here.
Do I need special software or hardware in order to access this site?
No, accessing and using this website requires only an internet connection.
Summary
A Connecticut pay stub generator is an invaluable tool for employers and employees in the state.
Providing quick and easy access to accurate payroll information that can be used to verify wages, taxes paid or owed, deductions taken out of paychecks, vacation time earned, or accrued hours worked.
The process for creating a pay stub is simple; all you need to do is provide basic employee and employer information into a web form before printing off your customized document.
With its numerous benefits, such as saving time on calculations and reducing administrative costs associated with issuing checks by hand.
It's no wonder why many business owners are turning to this technology as their preferred solution when managing payroll services.
By taking the hassle out of accounting, a Connecticut pay stub generator is an ideal way to ensure that all employees are paid accurately and on time.