The Indiana Pay Stub Generator is an invaluable resource for Indiana residents, business owners, and accountants.
This online service provides easy access to accurate pay stubs that meet the requirements of the state's laws on payroll processing.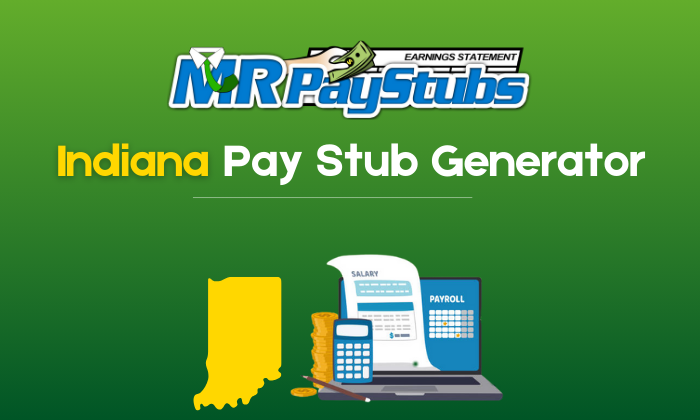 Through this generator, users can quickly create a customized statement of earnings specific to their resident or business needs in just a few minutes.
The advantages offered by this user friendly system include:
Saving time spent manually creating paystubs.
Ensuring accuracy with every paycheck.
Reducing compliance risks associated with not providing full disclosure.
Instant delivery through email and printer ready forms for hard copies when needed.
Not only does it make managing your employee payments easier, but it also simplifies audits as all data required is stored securely within our independent platform until requested by authorized personnel via the ID verification process.
So if you are looking for the easiest way to generate pay stubs, the Indiana Pay Stub Generator is your number-one choice.
What is an Indiana Pay Stub Generator?
An Indiana Pay Stub Generator is a tool used to generate pay stubs for Indiana residents. It provides information such as year-to-date income, deductions from each paycheck, state taxes paid, and net take-home pay.
By using an Indiana Pay Stub Generator, employers can automate the entire payroll process, making it easier to track employee wages accurately and efficiently.
The generator also helps individuals better understand their overall financial standing by providing access to detailed earnings statements.
So that they are able to more easily make sound budgeting decisions regarding savings goals or other future investments.
How Does an Indiana Pay Stub Generator Work?
Indiana's pay stub generator is a powerful and efficient tool that allows employers to quickly generate accurate, itemized pay stubs for their employees.
The generator takes payroll information such as gross wages, deductions, taxes withheld, and net payment information.
Which it then uses to automatically generate an employee's individual statement in just minutes with no manual calculations involved.
Furthermore, these statements can be exported or printed, so they are easy to store on file for future reference if needed.
Employers also have the freedom to customize the PandaDoc template format for how all the data will appear within each generated statement.
Ensuring that every employee's individual circumstances are accurately depicted without any mistakes being made along the way.
Benefits of Using an Indiana Pay Stub Generator
Using an Indiana Pay Stub Generator is a great way to easily track employee wages.
The benefits of using this tool are numerous, including the following:
Generates accurate pay stubs quickly and efficiently.
Can be used as proof of income for rental applications or loan requests.
Calculates taxes accurately.
It prevents errors in manual calculations and entries by automatically generating information such as gross payment amounts and deductions taken from payments.
By utilizing an Indiana Pay Stub Generator, businesses can save time while ensuring payroll accuracy for their employees.
Frequently Asked Questions on the Indiana Pay Stub Generator
How do I generate an Indiana pay stub?
Use an online Indiana Pay Stub Generator.
What information is needed to use a Pay Stub Generator?
Your employee and employer details, payroll dates, wage types, deductions, taxes, and bank account information.
Are all pay stubs in the state of Indiana legally compliant?
Yes, when using legitimate generator software for creating your paystub, it is 100% accurate and legal.
Is it free to generate a payday slip for my employees in the State of Indiana?
Some providers may offer complimentary access, while others will require payment for the services offered.
Does generating an electronic payment stub help me save time on paperwork or bookkeeping tasks?
Yes! Generating electronic payments reduces administrative costs associated with manual processing during payroll closure.
Summary
The use of a pay stub generator in Indiana can be helpful for businesses and individuals alike. It is an efficient way to create accurate, clear documents that prove income or deductions.
This type of resource offers the convenience of creating salary documentation quickly and accurately with minimal effort on the part of employers or employees.
Additionally, using a dependable online platform also reduces errors common when manually calculating salary data as well as helps protect sensitive information like bank account numbers from unauthorized access.
Ultimately, utilizing an Indiana Pay Stub Generator can provide great savings in time and money while ensuring accuracy throughout payroll processing cycles.