This is a comprehensive online resource that makes it easy for employees in the state of Arizona to generate and manage their own pay stubs quickly, securely, and accurately.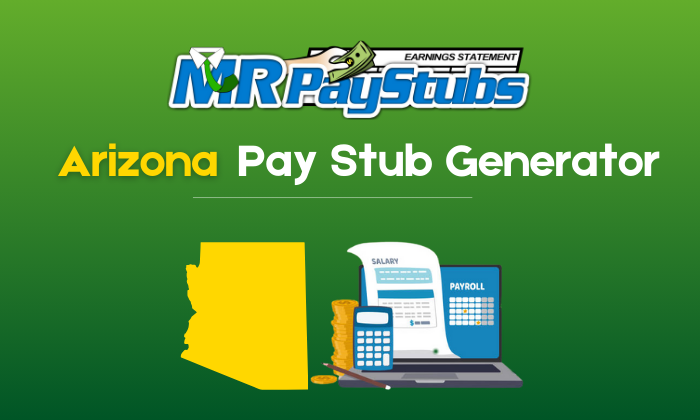 Our innovative technology provides users with all the information they need about deductions, taxes, wages, including salary year-to-date totals, and more.
It also helps employers stay up-to-date on payroll regulations without sacrificing accuracy or efficiency during busy times.
With our system, you can create accurate employee data records and streamline tax filing processes while ensuring compliance with state laws.
Get started today from the convenience of your home or office; enjoy fast turnaround time and peace of mind knowing that your documents will be prepared according to exact specifications in no time at all.
Overview of the Arizona Pay Stub Generator
The Arizona Pay Stub Generator is a free and easy-to-use online tool that allows users to generate customized, printable pay stubs.
This powerful software offers an intuitive platform for employers to accurately calculate wages and deductions using just their employees' information.
With the help of this generator, businesses can quickly produce accurate pay stub documents with important details like federal taxes withheld, net earnings after taxes are paid out, and total hours worked in one or more payroll periods.
As well as itemized deductions including health insurance premiums, contributions, and flexible spending accounts (FSAs).
The calculator also displays real-time updates when making changes within the system so that calculations remain up-to-date at all times.
Additionally, it provides thorough reporting capabilities by generating worksheets detailing hourly wage rates versus overtime payments, etc., giving extensive transparency over time management processes.
Creating an Accurate and Secure Arizona Pay Stub with a Generator
If you need to create an accurate and secure Arizona pay stub with a generator, there are several steps you should take.
First, make sure the software or website used for generating your pay stub is compatible with Arizona's laws and regulations regarding payroll information.
This will ensure that all of the necessary deductions taken from employee wages (such as FICA taxes) are accounted for on their paycheck each period.
Next, input all relevant employee data, such as name, address, Social Security number, wages earned per hour, day, week, etc.
Applicable deductions (e.g., federal taxes); amount of leave taken during the reporting period; and any additional benefits paid out in cash or other forms (e.g., health insurance premiums).
All this data should be double-checked once filled in to verify its accuracy before printing off copies of the generated paystubs from your generator service provider.
Incorrect entries could result in unwanted penalties imposed by state authorities later down the road.
Finally, store these documents securely using either password protection or other encryption methods so only authorized personnel can access them at a future date when needed again.
This helps protect against potential identity theft issues too.
Frequently Asked Questions On Arizona Pay Stub Generator
What is the Arizona Pay Stub Generator?
The Arizona Pay Stub Generator is an easy-to-use online tool that allows employees in the state of Arizona to quickly and accurately create pay stubs with their gross wages, deductions, taxes owed, and net income calculations.

How do I use the generator?
You can access it on our website by filling out your basic employee information, like name, address, etc., as well as information about your salary or other forms of compensation, such as bonuses or commissions.
Do I need to provide any paperwork or documentation in order to generate my pay stub?
No, all you will need is information that relates directly to your salary and deductions.
What type of documents can I generate with the Arizona Pay Stub Generator?
You will be able to create pay slips that accurately reflect payments made for yourself or even a third party.
Summary
The Arizona Pay Stub Generator is a helpful tool that businesses can use to create accurate and professional paystubs for their employees.
It allows employers to quickly enter employee information into the system and generate customized pay stubs with all necessary deductions clearly listed out.
This eliminates the need for manual calculations in order to accurately determine payroll amounts, saving companies time while ensuring compliance with applicable laws.
Furthermore, this generator helps organizations keep better records of all wages earned by each employee throughout the year, which provides support during wage disputes or other matters related to labor law enforcement.