Are you looking for an easy and convenient way to generate pay stubs for your business in Arkansas?
Look no further than our Arkansas Pay Stub Generator.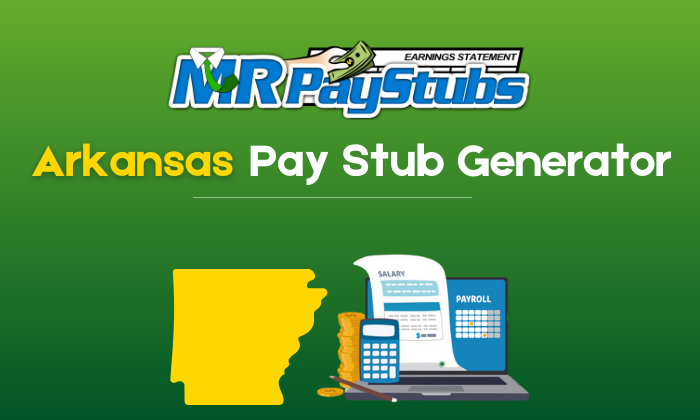 Our user-friendly tool makes it effortless to quickly create accurate payroll documents with all the necessary information.
Whether you're just getting started or have a larger, established operation, we offer affordable plans that will meet your needs without compromising on quality and accuracy.
With customizable features such as adjusting deductions and adding company logos, there has never been an easier solution.
Get up and running today with our simple yet powerful software and start generating reliable pay stubs right away.
What Are the Benefits of Using an Arkansas Pay Stub Generator?
Using an Arkansas Pay Stub Generator is a great way to easily and quickly access accurate pay stubs.
It can help save time and money by avoiding costly mistakes when manually creating pay stubs, while also providing the peace of mind that comes with the assurance of accuracy.
An Arkansas Pay Stub Generator simplifies payroll processing tasks such as calculating taxes, deductions, earnings, and other values associated with employee compensation packages.
Additionally, it provides employees access to their current or past payment information whenever they need it.
Eliminating waiting for paper copies in snail mail or having to contact HR personnel for this type of data inquiry each time.
Finally, using an Arkansas Pay Stub Generator ensures compliance with state laws surrounding wage payments.
So businesses don't mistakenly find themselves in violation due to unintentional oversight or carelessness on behalf of their staff members responsible for these duties.
How to Use an Arkansas Pay Stub Generator Effectively
Using an Arkansas pay stub generator effectively involves a few simple steps.
First, you need to enter the employee's name, company information (including address and EIN), their hourly rate of pay, or their weekly salary.
Any deductions that may be taken out, such as taxes or health insurance premiums, and finally, the number of hours worked during the specified time period.
Once these details have been entered into the generator correctly, it will generate an accurate image of your employees' paycheck in seconds, which can then be printed off for distribution to your staff members.
Additionally, ensuring all personnel are aware of how it works ensures accuracy when using this tool; making sure they understand why deductions appear could prevent misunderstandings regarding payroll disputes down-the road too.
Best Practices for Generating Accurate and Legitimate Arkansas Pay Stubs
Generating accurate and legitimate Arkansas pay stubs is crucial for employers, so it's important to follow best practices when doing so.
Here are a few basic guidelines that should be followed to ensure accuracy:
Always stay up-to-date on the latest state labor laws in Arkansas.
Make sure records of employees' wages, hours worked, and withholdings comply with all federal rules.
Include accurate information such as gross income earned, taxes deducted, and contributions made towards benefits or retirement plans.
Ensure that any deductions taken from an employee's paycheck have been properly authorized by the individual beforehand; if not, they will need to be returned immediately upon discovery of this fact.
Calculate overtime payments accurately based on worker classification (exempt vs. non-exempt).
Following these simple steps can help keep everyone happy and safe in their employment relationship.
Frequently Asked Questions on Arkansas Pay Stub Generator
What is an Arkansas Pay Stub Generator?
An Arkansas Pay Stub Generator is a tool used to quickly and easily generate pay stubs for use in the state of Arkansas.
How much do I need to know about creating a paystub before using this generator?
You don't need any special knowledge or experience; all you have to do is enter your employer's relevant information into the necessary fields on the form provided by the generator.
Do I have access to my prior paystubs if I use this generator?
Yes! The generated documents are saved within your account indefinitely, so you can look back on them throughout your employment period whenever needed.
Are there any limitations to how many paystubs I can generate?
No, you are able to use this generator without limitation and create as many pay stubs as necessary.
Summary
When it comes to generating accurate and legitimate Arkansas pay stubs, employers should ensure that all payroll information is accurately reported on the employee's paycheck.
This includes calculating gross wages correctly and matching deductions with corresponding contributions (if any).
And clearly documenting employer-paid taxes or other withholdings, including legal deductions such as benefits and insurance premiums, if applicable.
Additionally, employers must keep up with federal and state labor laws in order to comply with wage regulations and stay compliant through regular audits of their records.
Following these best practices will help guarantee that employees receive a valid paycheck every month while avoiding costly penalties for non-compliance.