This powerful, user-friendly tool gives you accurate and up-to-date information about your payroll in a simple format.
It quickly creates detailed pay stubs for each of your employees with all of their relevant salary details, including wages earned, deductions taken out, taxes owed or withheld, etc.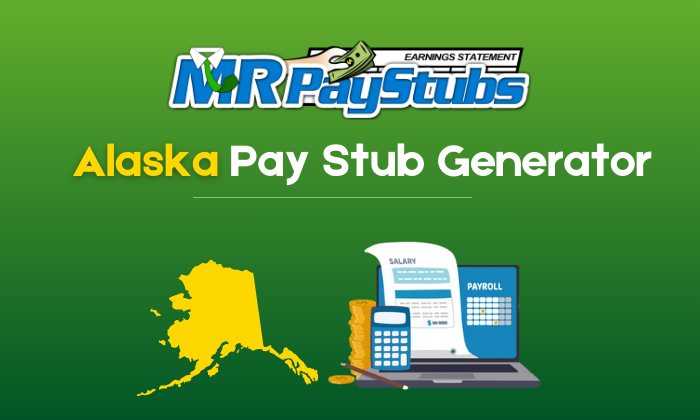 With this amazing resource at hand, you can easily stay on top of employee payments and make sure everyone is paid properly and promptly every month.
The generator helps reduce paperwork associated with handling payroll while ensuring accuracy across your entire workforce's financial data records, making it an invaluable asset for Alaskan employers everywhere.
Overview of the Alaska Pay Stub Generator
The Alaska Pay Stub Generator is a fantastic tool to help businesses and workers in the state manage their finances.
This generator provides an easy way for employers to generate pay stubs with accurate information that complies with applicable payroll regulations.
The main features include:
Generates customizable, professional-looking pay stubs free of charge.
Includes all relevant federal tax codes as well as any special local taxes.
Calculates deductions and withholdings automatically based on employee input, such as gross wages or salary amounts.
Automatically calculates overtime and holiday rates when activated.
Printable PDF files can be generated from the final output, enabling users to have hard copies if needed.
With this user-friendly interface, businesses no longer need paper documents or spend hours entering manual data into spreadsheets, saving them time and money.
Benefits of Using an Alaskan Paycheck Calculator
Using an Alaskan paycheck calculator is a great way to accurately calculate your paychecks.
It can help you ensure that all taxes and deductions are taken out in the correct amounts, so you don't owe any penalties or interest for inaccurate reporting.
Additionally, using this payroll tool can save time by streamlining data entry and automating calculations.
Here are some of the key benefits of using an Alaskan Paycheck Calculator:
Automatically calculates state withholdings from Alaska Department of Labor and Workforce Development regulations.
Computes contributions based on the employer-defined contribution rate.
Accurately calculates wages due to employees quickly and easily.
The flexible platform allows administrators to customize general settings, such as check frequency.
Includes support for voluntary deductions like health insurance premiums.
Provides access to historical information about past payments and deductions.
Frequently Asked Questions on Alaska Pay Stub Generator
What is an Alaska Pay Stub Generator?
The Alaska Pay Stub Generator is a free online tool that allows you to quickly generate accurate pay stubs for employees in the state of Alaska without any need for manual calculations, paperwork, or software installation.
How do I use the Alaska Pay Stub Generator?
To create your paystub, simply enter basic information about yourself and your employer, such as name, address, gross wages, etc. Then click "Generate" to receive a comprehensive PDF report containing all pertinent payroll information.

Is using this generator easy and secure?
Yes! Our online system uses strong encryption methods and utilizes security protocols designed after those used by financial institutions. Ensuring that personal data entered into our site remains confidential and safe from malicious intruders or hackers attempting to access it via external websites or other sources on the internet.

Do I need to purchase additional software in order to use the Alaska Pay Stub Generator?
Not at all! Our service is 100% free and does not require any other programs or applications for you to be able to install before creating your pay stubs.

Just make sure that either Google Chrome, Firefox, or Safari browsers are installed on your computer prior to accessing our site.

Do I need to be a resident of the state of Alaska in order to use this generator?
No, you don't need to be an Alaskan resident to use our services; we offer pay stub generation tools for most states as well as those who work remotely or internationally.
Summary
The Alaska Pay Stub Generator is an easy and convenient way to generate pay stubs for employers in the state of Alaska.
It provides a user-friendly interface with step-by-step instructions that make it simple for users to enter information quickly and accurately.
With its impressive features, such as real-time calculation capability, customizable template options, and automatic payroll tax calculations, businesses can save valuable time.
While ensuring accuracy when creating their employees' pay stubs.