The Idaho Pay Stub Generator is an incredibly useful tool for businesses in the state of Idaho.
This powerful online generator provides employers with detailed, easy-to-read pay stubs that are filled out according to various tax laws and regulations specific to the state of Idaho.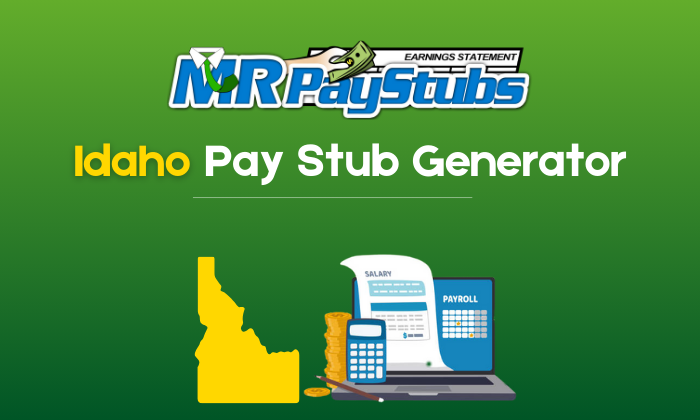 The information contained on these pay stubs can be used by both employees and their employers for tracking income taxes, payroll deductions, vacation time, and other employee benefits over a given period of time.
With this helpful tool at your disposal, creating accurate payment documents will no longer be daunting or complicated; it'll all become second nature.
Not only is the Idaho Pay Stub Generator simple and effective, but it also works to save businesses both time and money.
By eliminating tedious paperwork requirements, employers can quickly run detailed calculations on employee wages without having to manually enter figures every step of the way. This makes managing payroll a breeze.
Benefits of Using an Idaho Pay Stub Generator
Using an Idaho Pay Stub Generator can be a great benefit for both employers and employees.
It allows you to quickly and easily generate pay stubs that will accurately reflect the amount of money earned during each period, as well as taxes withheld.
This helps ensure compliance with local regulations while also providing secure documentation of income details.
Among the many benefits associated with Idaho pay stub generators are:
Improved accuracy: Automated calculations help reduce errors in computation, thereby improving overall accuracy levels.
Increased efficiency: With fewer manual steps involved, payroll processing times become shorter,which saves valuable time.
Reduced paperwork: Generating paperless payslips cuts down on administrative costs, including labor needed to maintain physical records over extended periods.
Cost savings: By eliminating traditional printing and mailing expenses related to generating and distributing paper-based documents, businesses can save significantly on their overhead costs.
How to Generate a Customized Idaho Pay Stub
Generating a customized Idaho pay stub requires several pieces of information.
First, you will need to include the name and address of your employer, as well as your own name and address, on the form.
Next, provide basic personal details such as date of birth, social security number or tax identification number (TIN), gender, state of residence/country etc.
So that it is easier for an employer to identify who they are paying wages too.
Finally, enter relevant wage related data like type of salary (hourly rate or annual rate) and gross income earned each month or year.
Depending upon which frequency the person has chosen to receive their payment, in addition to taxes withheld from wages (state and federal) over different periods of time.
If paid at different periods during a certain month, and deductions applicable due to withholding allowances taken by the employee himself,
All of these must be provided together before generating this document accurately.
After having filled in every nook and cranny, simply hit the 'Generate' tab located right beside once you've finished entering pertinent payroll related information for receiving a personalized Idaho Pay Stub instantly.
Understanding the Components of an Idaho Pay Stub
Understanding the components of an Idaho Pay Stub is important in order to properly manage one's finances.
The stub contains important information such as wages paid, taxes and deductions taken out of a paycheck, vacation time accrued, insurance benefits received, or other payroll benefits used.
This can assist employees with staying informed about their financial responsibilities, such as filing quarterly reports for taxes due or monitoring any changes from employers regarding wage rates and overtime regulations.
Knowing what these components are will also help people plan ahead financially by knowing how much they will receive each pay period, regardless of whether there were extra hours worked during those weeks or not.
Understanding the components of an Idaho Pay Stub is vital when it comes to sound money management practices that may even save you money down the line.
Frequently Asked Questions On Idaho Pay Stub Generator
What is an Idaho pay stub generator?
An Idaho pay stub generator is a tool used to create customized digital or physical copies of employee paycheck information.
How does it work?
An Idaho Pay Stub Generator takes user-entered payroll data and generates an accurate, detailed document that meets legal requirements for reporting earnings in the state of Idaho.

Is this service free?
No, there is typically a fee associated with using an online or software version of the Idaho Pay Stub Generator.

Do I need any additional paperwork to use the generator?
No, all you need are your company's payroll records and details about employees' wages and deductions.
Is my generated paystub valid legally?
Yes, the generated pasytub will meet applicable laws as well as IRS standards when provided with correct inputs from users.
Summary
Understanding the various components of an Idaho pay stub is important for employees to ensure they are paid properly and accurately.
It can also be a useful tool for employers to keep track of employee information, wages, taxes, and benefits.
Knowing what each component entails allows both parties involved in payroll processing—employers and employees—to make sure all related documents are filled out correctly throughout the month-end process.
With a better understanding of the components, employers and employees can ensure accurate wage payments.
All parties can be sure that all wages are paid in the correct amounts and on time, while still adhering to applicable tax laws.