Iowa Pay Stub Generator is a free and easy-to-use tool for all of your payroll needs.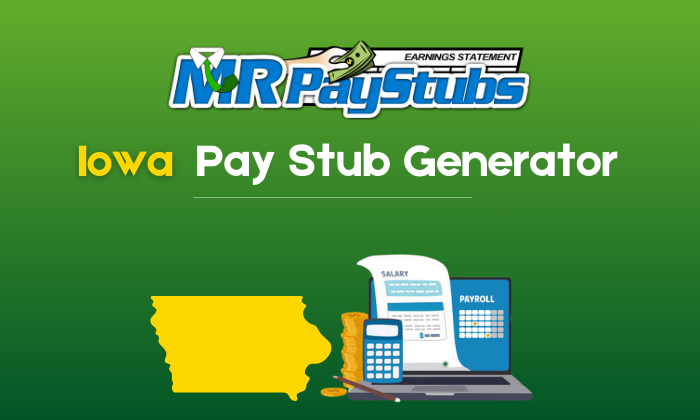 Whether you're an employer or employee, this online generator helps generate custom pay stubs tailored specifically to Iowa state labor laws in just seconds.
With its straightforward user interface and comprehensive features, it makes the process of creating pay stubs painless and efficient.
From shell-out correct tax amounts such as federal income tax withholding as well as other deductions like Social Security payments and Medicare contributions.
The calculator takes into account these factors when generating each checked salary slip, giving you worry-free accuracy that meets government regulations.
And best yet, no special software installation is required; simply create your paycheck quickly and easily by using any web browser.
Overview of the Iowa Pay Stub Generator
Iowa Pay Stub Generator is an online tool that simplifies the process of creating, managing, and tracking employee pay stubs.
It helps automate payroll processes by providing businesses with a customizable and intuitive platform designed for generating compliant paystubs in Iowa according to state laws.
With this system, employers can easily generate accurate and up-to-date documents that show wages earned as well as deductions for taxes such as Social Security contributions and Medicare payments.
This makes it easier to manage wage information while ensuring compliance with state regulations.
Additionally, the software also provides live support, so users have access to help when needed, which makes organizing payroll simple even if you are new or inexperienced in managing financial records.
Benefits of Using an Iowa Pay Stub Generator
Using an Iowa Pay Stub Generator can provide numerous benefits to both employers and employees.
By using a pay stub generator, businesses can save time from manually calculating payrolls as well as ensure accuracy of calculations due to the automated process.
Employees can also benefit in multiple ways, such as by having organized records of their income, which they may use for income tax filings or mortgage applications.
Below are some of the key advantages offered by employing a pay stub generator:
Quick processing times: Generating paychecks with an Iowa Pay Stub Generator is much faster than manual calculation.
Increased accuracy: Errors caused by incorrect numbers when generating paper checks will be reduced significantly.
Easier filing: Records generated through this method help make filing taxes easier for employees.
Employee convenience: With digital proof being maintained, there's less paperwork involved since all information is stored online
Cost savings: Businesses can save money on costs associated with manual pay generation.
How to Use a Free Online Iowa Pay Stub Generator
Using a free online Iowa pay stub generator is an easy and convenient way to create professional-looking pay stubs.
To use it, you will need to enter your basic information, such as the employee's name and address.
Their payment amount per period, deductions that may apply, such as taxes or contributions, and employer contact information if applicable.
After entering this information into the system, you are provided with accurate data in real time regarding payroll withholding amounts.
Which can be used when filing taxes at year-end, making tax preparation easier and faster than having to calculate all figures manually using paper forms for each individual paycheck.
The generated results, including detailed reports of earnings history over several periods, can also help employers keep on top of payroll accounts more effectively.
While helping ensure employees get paid correctly every week without discrepancies.
Frequently Asked Questions On Iowa Pay Stub Generator
How do I create a pay stub for my employee?
Use our online Iowa Pay Stub Generator to quickly and securely generate professional payslips.

Does the generator automatically calculate taxes?
Yes, the generator takes into account federal and state tax laws in calculating deductions from an employee's paycheck.
What information is needed to generate a paystub?
The required data includes employer name and address, employee name and address, start date of employment, and salary details like gross earnings, salary amount earned, etc.
Is technology able to use this service?
Yes! Our system uses industry-standard encryption technology, which ensures that all sensitive customer data remains protected at all times during transmission as well as storage on our servers.
Can I print out multiple copies of one single stub using this service?
Yes, you can! Just enter the same information again when generating your second or subsequent copies of the same stub.
Summary
Using an online Iowa pay stub generator is an easy and convenient way to generate accurate and customizable pay stubs for your employees.
It is important to make sure that all of the information you enter into the program is correct so that you can be confident in knowing exactly how much each employee has earned, as well as any taxes or deductions that have been taken out.
The user-friendly interface makes creating these documents hassle-free, ensuring smooth payroll operations for your business.